Transform the Way You Do Business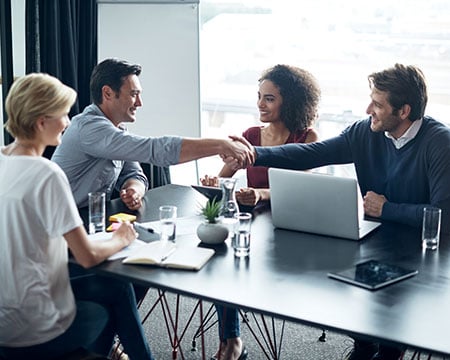 Our team can help you create a strategy and define your digital future.
Talk to our Specialists
The past several years has seen an exponential acceleration to hybrid work for organizations of all sizes.
This trend has been driven not only by a global pandemic, but years of increasing pressure from employee demands, scarcity of talent and rapid technology advancements that support remote work, aka "work from anywhere" environments.
Organizations have needed to adapt to these trends and adopt new technologies at scale, which has created both opportunities as well as risks.
Key Trends Driving the Need for Change
Flexibility – Where and when employees prefer to work has shifted. Based on a 2022 Microsoft Work Trends Index report, 57% of current remote employees are considering shifting to a hybrid work model. In the same report, 51% of employees who are currently working in a hybrid fashion are considering a shift to remote-only. In fact, "The Great Resignation" highlights this exact shift in prioritization and desire for more flexibility in the workplace.
Tight Talent Market – Through this shift to a hybrid work model, it has become easier for employees to find new work that may not be in their immediate geographic area. This is certainly one factor driving the "Great Reshuffle" over the past few years. In a labor market where talent is scarce and opportunities can be found nationwide instead of just in your backyard, responding to these statistics is paramount for employers that want to be competitive with top talent.
Having the infrastructure to ensure your business can be competitive within an expanded national—and global—talent market is critical. This also translates to your recruiting and retention of employees. How they do their work on a day-to-day basis and stay connected as a team are important considerations both from an employee and an employer perspective.
Generational Shift – Demands from younger generations entering the workforce and established Millennials now working their way to middle and upper management roles has created a significant shift in expectations when it comes to technology and work environment.
Employee perks such as game rooms, free food and social spaces that were prolific before the pandemic have given way to digital chat rooms and a preference for remote or hybrid work policies. Not adjusting to these expectations will significantly impact your organization's ability to attract and retain the talent you need to succeed as more Baby Boomers exit the workforce in the coming years and Gen Z starts entering it.
Ensuring Employee Work-Life Balance in a Hybrid Work World
While there are many factors that create and nurture great employee experiences, here are a few key aspects to consider when looking at opportunities to build a modern workplace:
Engagement – Ensuring that each employee can do their best work based on their preferences, while managing their needs to support work-life balance.
Training – Rethinking how employee education and training is delivered, accessed and shared.
Building Community – Creating opportunities for team members to stay connected and engaged when not in a common geographic area or when working in a fully remote environment.
Solution: Using Tools and Technology Effectively
Staying connected to the team and the work is top a priority in a hybrid work model. Having a consistent employee experience and the right access to data and applications to stay effective is an organizational imperative.
Achieving this can take many forms, but based on our team's experience, the biggest opportunities for organizations include:
Voice and video – Creating a consistent experience across desktop and mobile devices, Voice Over IP (VoIP) phones and meeting rooms to help bring people together even when they're not together physically.
Sharing documents and data - Managing digital workflows, making information accessible and delivering data where your teams collaborate improves productivity.
Streamlining complex multi-cloud environments for work – Bringing data together across multiple systems and sources to improve data integrity, collaboration and visibility.
Digitizing paper processes – Moving to digital workflows, leveraging automation to reduce manual processes and enabling end-to-end solutions through familiar tools and experiences makes your team more efficient and effective.
Mitigating Security Challenges and Risks with Remote Work
The move to hybrid work has also created significant cybersecurity challenges for organizations. This has been compounded by the rise in malware, ransomware and other criminal cyber activity which can impact any organization regardless of industry or size.
As such, we would be remiss if we did not also discuss the key security considerations that organizations undergoing hybrid work models need to address to develop a culture of security.
Securing the network and data – Securing your cloud and on-premises assets has never been more critical. Having a comprehensive security strategy for on-premises and cloud applications as well as managing internal policies around data access by employees is a cornerstone to a solid security posture.
Securing devices – With the rapid shift to hybrid work, the overall organizational network landscape has changed. More devices connecting from more locations requires the right tools and IT management rigor to deter threats. Ensuring that devices have the latest vulnerability updates and having a plan to manage those risks can go a long way in deterring threats.
Educating your workforce – Helping employees understand that every person in an organization plays an important role in securing assets. Encouraging strong passphrase creation, securing home work environments and ongoing education regarding malware and ransomware can greatly reduce your organizational risks.
Want to see how your organization's security practices measure up? Take this 12-question assessment to determine your current IT health and level of risk.
No matter where you land on the risk scale, sometimes you just need a second opinion. One set of questions can certainly provide a nice overview, but there's no substitute for a comprehensive security assessment.
A Trustworthy Cybersecurity Team Can Help
With direction and guidance from cybersecurity professionals, you can better understand your risks and empower the right people, processes and technology to protect your data. With a clear plan and trustworthy team, you can prevent, detect and respond to new cyberattacks and threats.