Strategies to Become a Data-Driven Company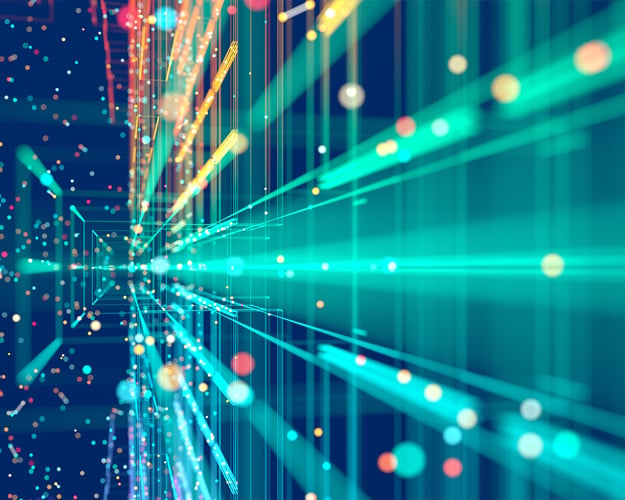 Uncover data analytics benefits and challenges along with actions business leaders can take to establish a data-driven organization.
Download the Guide
Your tech stack should work for you, helping to make your processes better and keeping your organization running smoothly. From your data warehousing solution to your ERP and CRM, it's vital that you have the right tools in place to enable and empower your organization to succeed.
However, while all those things are important pieces to the data puzzle, we often see organizations fall short of using their data to make impactful change. Many times, teams will think their whole tech stack simply isn't stacking up. More often than not, it's a problem with their data visualization.
There is an art and a science to correctly visualizing and presenting your business data. If your visualizations don't lead you from understanding the current state of your organization to taking actions to improve it, then your data collection is for naught.
We've compiled the top ten mistakes that we see in data visualizations so that you can start using your data to drive positive outcomes.
1.
Your KPI collection is based on legacy reports, not expert selection
Your main key performance indicator (KPI) collection must be carefully curated to align with your top business priorities.
Here are some questions to ask as you review your top KPIs:
When you log in to your reporting suite, what is the first set of KPIs or visualizations you see?
Who decided which KPIs should be included?
Are some of these visualizations included only because they were in a legacy report?
How many visualizations are present in that first view?
Make sure when a user logs into one of your reporting tools, they see the most important items for their job function at the top, with the KPIs aligned to the business objectives of their department.
Let's use a case study of a toilet paper manufacturer to illustrate this concept. For our example, imagine the company is analyzing its data as the pandemic pushed waves of supply and demand imbalances through the market. What KPIs would business users need to manage this situation?
Their top KPIs should reflect their business of making and shipping toilet paper to fill demand as efficiently as possible. The home page of their Operations reporting suite would include, all on the first page, summary metrics on:
The sales pipeline (new demand)
The distribution network (existing demand)
The top manufacturing processes (supply)
If they are working on a specific initiative this year, they would highlight metrics for that initiative in a prominent place.
Having trouble identifying which KPIs are critical? We have you covered.
2.
KPIs aren't presented in a concise, logical way
When a KPI is displayed, it needs to be presented so the point is clear. Too often, the important numbers are hidden under tables, stars, arrows, and bright colors, and they end up getting missed. The KPIs that matter at business meetings should not have a chance of being missed, misunderstood, or confused with the other information presented.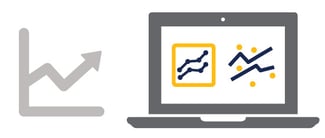 The design of the page housing your KPIs and their charts should be influenced by what your users need to see and know. If the KPIs are presented in a way that makes sense and does not take extra time to mentally process or analyze, users will lean on the reporting tool rather than avoiding it in favor of shadow-IT Excel reporting.
In our toilet paper case study, we could present the top KPIs in a 2x6 grid dashboard, with new demand on the left and supply on the right. On the top row could be current unit volumes for the product categories; on the lower row could be the time trend over the last 12 months.
3.
Users are unable to tell what changes are significant
Significant shifts need to be highlighted and obvious to those viewing your charts. If there is a change in the data that affects current operations, whether beneficial or harmful, that change should stand out from all the other information.
Finding the balance between simplicity and emphasis is key. A chart without any emphasis leads to wasted time spent looking for changes that should have stood out to users. However, a dashboard with too many attention-drawing colors and points of emphasis can become cluttered and distracting.
Back to our toilet paper company: if a sudden spike in sales occurs in a given region, put this situation in red on your line chart or make text in a table boldface to draw the user's attention. If properly emphasized, users can take appropriate and timely actions.
4.
An incorrect selection of chart types hides your message

Each type of chart is built to tell a particular story. Therefore, the decision about which type of chart to use in your business environment is not simply a matter of design and stylistic choice. Your chart needs to serve a function.
For example, charts can be specialized in comparing categories, showing change over time, visually representing information, or connecting groups. Understanding the purpose and function of each chart type is key. If these purposes are not understood, the chart chosen may send the wrong message or hide the important details completely.
For example, using a bar chart when users need to notice a change over time will lead to confusion and a missed message because bar charts are simply not built to serve this function.
In the toilet paper company, we would expect to see line charts showing the time trend of supply and demand. Then we could use large scorecard or bullet charts to highlight the percent change month-over-month (or whatever the appropriate time period is).
5.
KPIs are not paired with detailed reports and drill-through
Charts can show an insight, but they also need to be built for investigation. When a chart simply shows the summary of a situation in the company without the option for more detailed reports or ways to drill down into the KPIs, it becomes a dead end.
KPIs should always be partnered with drill-down paths to their details and background information to promote greater understanding. Do not let the information stop at "there was an increase in sales." Let it continue with "by how much?" and "what does this mean now?" This creates a better foundation for a data-driven organization because analysis becomes easier to perform.
In our toilet paper example, a line chart showing a change in sales should be accompanied by a drill-down path to see
Which SKUs are low?
Is the shortage similar in all regions?
Is the shortage due to low supply or high demand?
Each KPI should be a gateway to an analysis path. A chart showing demand by product category would be an entry point to a drill-down analyzing the numbers by SKU. A chart showing total sales per region should be just a starting point to drill-down to a full geographic analysis by state or city.

6.
Business users can't perform ad hoc analysis
Making data well-organized and available and allowing for business users to do ad hoc analysis allows your team to respond quickly to business changes. Every day presents a new problem and a new question. If they can see the data at a different angle in a new chart by a simple click, they can better understand the current situations. They will be inclined to turn to the reporting tools you've invested in to solve these problems.
At the toilet paper company, it's unlikely the IT department anticipated the business requirements for reporting during a pandemic. If they have a well-built, self-service reporting environment, multiple users from multiple departments could discover and report on the emerging trends using consistent numbers. Business users would be able to see the shock to their supply chain and perform analysis without ever contacting the IT department for help. Removing friction is an important part of building a data-driven culture on your team.
7.
Logical next steps have not been agreed upon
Once a problem is identified by a chart, logical next steps should be laid out within your tools. You can do this by linking KPIs in a chain that leads the users down the logical paths of analysis and resolution.
For example, if inventory is low, the logical next step would be to review purchase orders and shipment information. Those business processes are all connected, so their KPIs should also be connected.
If the toilet paper inventory is low, their reporting should lead users down the alternate paths to replenish inventory:
Option 1: Look for alternate SKUs to fill the needs
Option 2: Check the production lead time to meet demand
Option 3: Ship product(s) between warehouses if imbalances exist
Strategic reporting means working with the business to understand the dependencies in business processes and reflect the linkages in your reporting.
8.
Visualizations are not organized to lead to action

The visualizations you create should not just point out a problem. They should be designed to lead to action. A strategic visualization chain should walk users down a path from initial insight to final action. It should not assume that users have long institutional knowledge to know intuitively what to do with the insights from data.
In our use case example, we could create an inventory dashboard specifically designed to show the alternatives to deal with excess or low inventory. The KPIs on the dashboard would show the relationship between supply and demand and give information needed to address the imbalances.
9.
Lack of links to related applications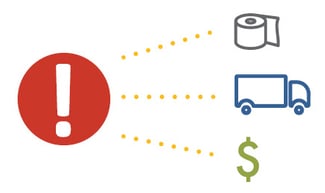 The best reporting tools will lead users to solutions to their challenges. If links are given to related applications, programs, and sites that will make solutions attainable, action can be taken in the moment.
Sending users to the next step could include providing links to supplier portals, financial applications, shipper websites with tracking numbers, or contact information for people who could be helpful in their situation.
With the toilet paper company, the reporting solution should, at the proper locations:
Embed links to a production management system (order more)
Embed links to a distribution management system (ship more)
Embed links to a pricing tool (raise prices)
10.
Password and security obstacles hinder users from taking action
The momentum is built up and your users are now able to utilize the connecting links you have provided to take action. However, password and security obstacles are hindering the processes, and removing friction is a key piece of becoming a data-driven team and organization.
Multi-factor authentication is vital to security. Once the user is logged in to the system, implementing single-sign-on (SSO) integration of your applications, including the reporting tools, is a key step to connecting data to business outcomes.
Ask business users to document and report on the obstacles they face as they switch between applications on the path from data to their final action. Create a backlog of projects to resolve those obstacles.
Making Your Company a Data Company
The journey to making your company a data company starts with defining a data strategy, combining your data sources into a data warehouse, and then building out your data visualization so that you can start making data-informed decisions. Not sure where to start? We can help.
Data
Get insight at the speed of now with accurate, reliable
data
that flows seamlessly through your organization.