In today's digital landscape, ensuring the security and protection of sensitive information has become a critical concern for organizations of all sizes. And while digitizing business processes has become imperative for the organizations of the future, this digital transformation has also led to increased risk.
Chief Information Security Officers (CISOs) and their teams play a crucial role in securing client and product data, as well as protecting emerging technologies. However, for many organizations, the cost and resource requirements of hiring a full-time CISO may not be feasible. That's where a vCISO comes in.
What is a Chief Information Security Officer (CISO)?
The role of a CISO emerged as a critical need for organizations to safeguard their internal information systems. Now, with the increasing reliance on technology in the modern business landscape and attacks coming from anywhere and at any time, the CISO role has expanded to protect the organization from the dangers and consequences of potential security breaches.
A CISO is tasked with ensuring the confidentiality, integrity, and availability of an organization's sensitive data. Through strategic planning, risk management, and effective implementation of security measures, the CISO plays a pivotal role in protecting an organization's valuable information assets.
To illustrate the importance of closely managing security risks, consider what could happen if your organization did not take preventative measures. Children's Miracle Network, for example, nearly fell victim to a data breach that would have impacted partner and donor information. However, due to the thorough preventative security measures they'd put in place with our team, they detected that certain credentials had been compromised before the cybercriminals could act.
"Our security department was able to take countermeasures," said Tony Rehmer, Senior VP of Information Technology at Children's Miracle Network. "The bad actors knew we were onto them and halted their attack."
The most successful digital transformations and modern workplace environments involve a strong alliance between cybersecurity and technology teams. Discover how to create a security dream team with your CIO and CISO.
What if I Can't Hire a Full-Time CISO?
While we can't overstate the importance of a Chief Information Security Officer's role, the reality is that many organizations don't have one. This is usually due to:
Cost:
With current total compensation ranging from $208K to $337K, hiring an in-house CISO may not be in the budget for small or midsize organizations, especially those that aren't heavily regulated.
Resource constraints:
Some organizations may not have the resources to support the hiring and management of a full-time CISO.
Lack of in-house expertise:
In some cases, organizations may not have the in-house expertise to identify the need for a CISO and evaluate potential candidates.
Perception of low priority:
Some organizations may not consider information security as a priority, particularly if they have not experienced a security breach.
And while building a culture of security necessitates this type of role, there is another option for organizations who cannot fill a full-time position.
A virtual Chief Information Security Officer (vCISO) can be a cost-effective solution for organizations that want to benefit from the expertise of a seasoned professional without incurring the costs and resource requirements of a full-time hire. In this model, an organization contracts with an individual, or a company, to oversee security as needed.
According to Gartner, vCISO responsibilities include a mix of:
The traditional approach to staff augmentation, meaning the vCISO is physically or virtually present at meetings, events, during operations, and in strategy planning.
Consultative engagement and management to help create and carry out security and risk programs. This includes making plans, setting up security rules and procedures, and evaluating potential security risks.
Project management of creating and deploying security and risk solutions.
Coaching or advisory services to train full-time staff on how to utilize security procedures, develop communication plans and train the next generation of security and risk leaders.
Organizations can hire a vCISO for a range of needs – whether that's to temporarily fill the gap until they hire a CISO, help increase cybersecurity maturity, develop a compliance program, or optimize spending on security and risk management programs.
What are the benefits of hiring a vCISO?
There are several benefits of hiring a vCISO.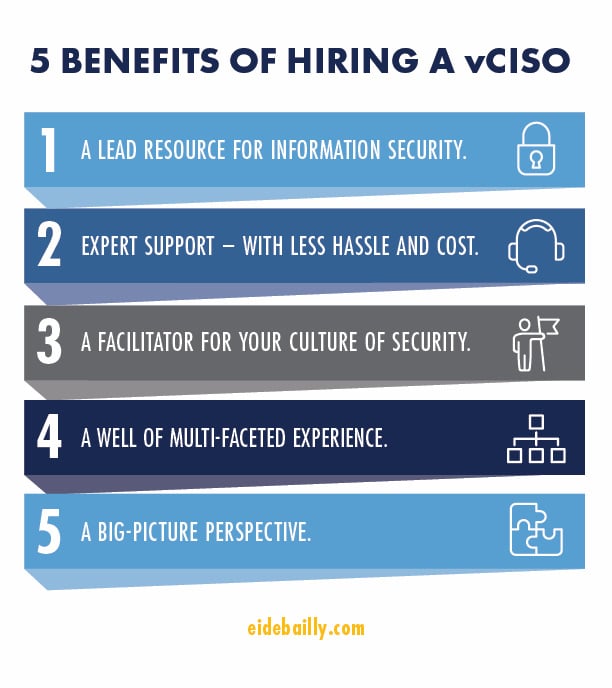 1.

They can be a leading resource for information security.

A vCISO can guide investments safely, ensuring activities do not open your company up to more risk. That might involve supporting the expansion of your online presence, the roll-out of a new ERP system, decisions about technology initiatives and more.

As a seasoned professional in the field of information security, vCISO's also have a deep understanding of the latest threats, regulations, and technologies. They can provide invaluable guidance and support to help your organization stay secure.
2.

You'll receive expert support – with less hassle and cost.

The CISO role is expensive to fill, and such security leaders are in high demand, so talent is hard to find.

With a vCISO, you'll have access to an experienced information security professional without having to worry about the cost and hassle of recruiting, hiring, and managing a full-time employee. They can provide expert support when you need it, and you only pay for the time and services you use.
3.

They're a critical facilitator of your culture of security.

A vCISO can help facilitate a positive and secure culture within your organization. They could either fit into your defined processes and maintain them or help create and build that culture from the ground up.

VCISOs can create and implement security policies, procedures, and awareness programs that align with your organization's values and objectives. By doing so, they help ensure that everyone in your organization understands their role in maintaining a secure environment.
4.

They can bring a well of multi-faced experience.

A virtual CISO will likely have worked with a variety of organizations, industries, and technologies, giving them a broad perspective on information security.

This experience can help your organization find the best solutions for its unique security needs and ensure that you are making informed decisions about your security posture. They can draw from that experience to build a program with you that makes the most sense for your goals.
5.

You'll gain a big-picture perspective.

A vCISO can provide your organization with an outside perspective on their overall cybersecurity posture and strategies. This bird's eye view can help you identify areas of weakness and opportunities for improvement in your current security posture and provide a broader understanding of the latest cybersecurity trends, risks, and best practices.

Additionally, a vCISO can help bridge the gap between technical and non-technical stakeholders, providing a clear and concise understanding of your organization's security program to decision makers and stakeholders at all levels. If you work with a company that provides holistic professional services, instead of just IT services, that company can take an even broader view of your business overall.
Build a Culture of Security with a vCISO
As the threat landscape evolves and the need for effective cybersecurity strategies grows, organizations cannot afford to ignore the benefits a vCISO can bring to the table. Building a culture of security requires a top-down approach that equates proactive security planning with overall business success. Prioritizing the role of a CISO, whether in-house or virtual, ensures your organization brings security into the conversation from the start, resulting in significantly lower breach costs and less time wasted when an attack occurs.
If you're looking to build a culture of security within your organization and take your cybersecurity to the next level, our team can help. We offer vCISO services that provide organizations with a flexible and cost-effective solution for managing their cybersecurity program and staying ahead of the curve.
To meet demand, remain competitive, and mitigate risk, it's imperative your team creates an environment that is both agile and secure. Discover how to create a security dream team with your CIO and CISO.
We're Here to Help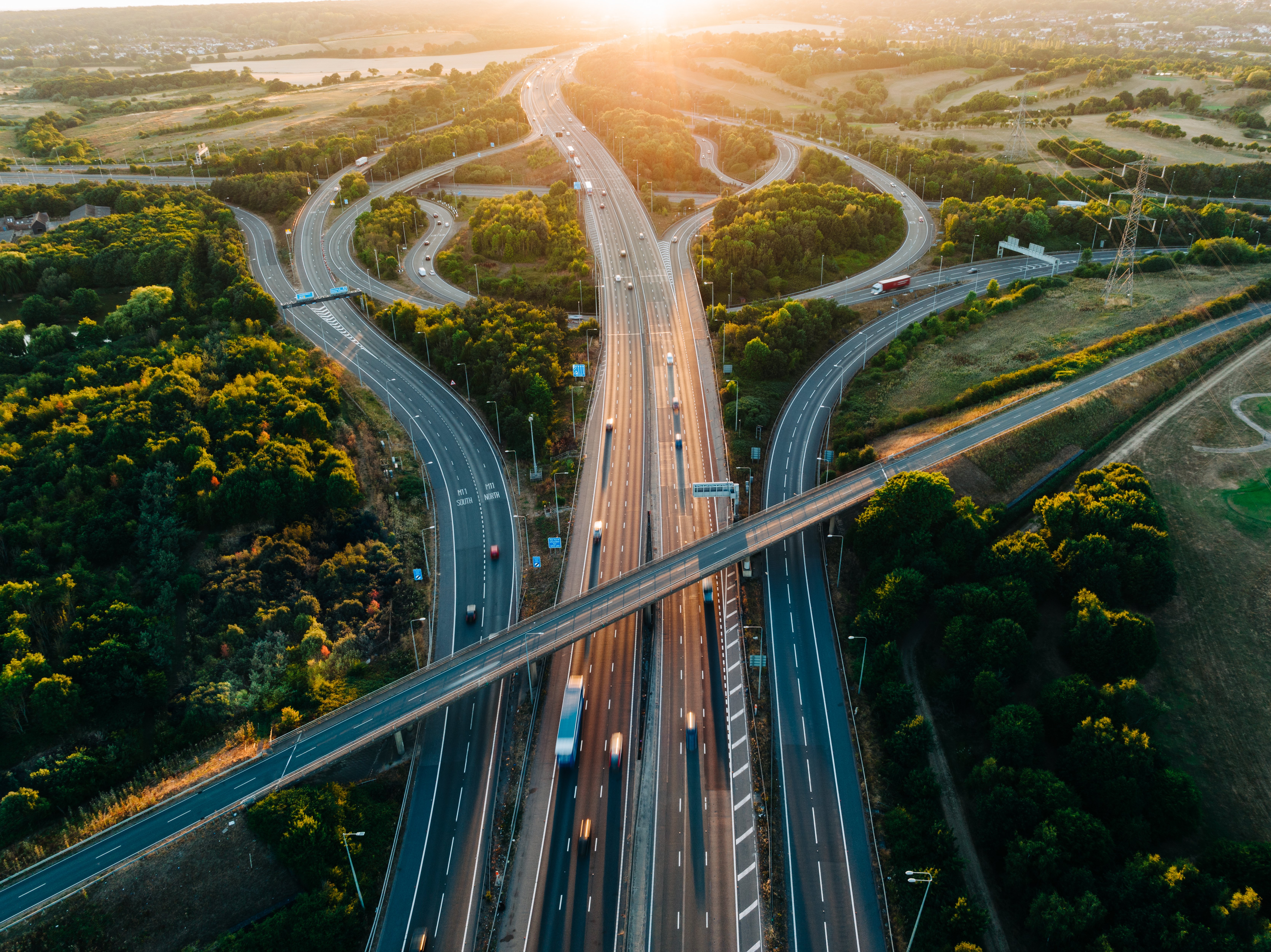 From business growth to compliance and digital optimization, Eide Bailly is here to help you thrive and embrace opportunity.
Speak to our specialists