Let us help you create, manage, and secure your modern workplace.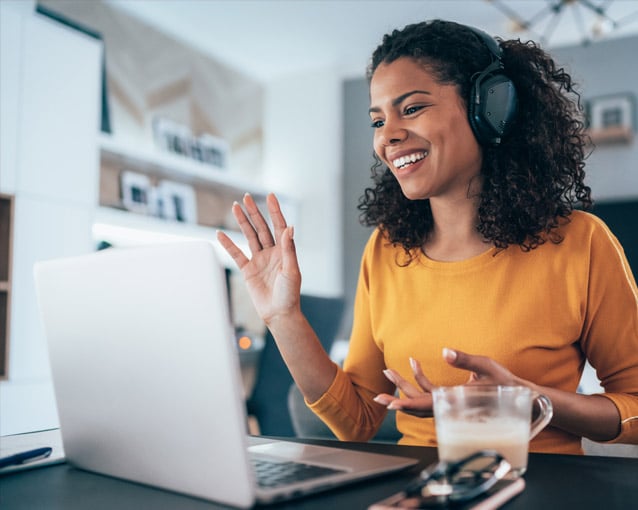 Enable collaboration and productivity built on the foundation of a scalable cloud or hybrid environment.
Talk to our specialists
Key Takeaways
In the next year, the average organization will put 80% of its IT budget toward cloud initiatives.
Cloud migration can mean a number of initiatives, including rehosting, refactoring, or rearchitecting.
A successful cloud migration strategy includes a plan for your cloud infrastructure, applications, and security.
Organizations have been in the process of migrating to the cloud over the last three decades. But the past three years of pandemic-driven acceleration has pushed organizations seven years ahead of where they would have been had cloud adoption's speed stayed at its trajectory.
Research from McKinsey shows that within the next year, the average organization will spend 80% of its IT budget on the cloud. Unfortunately, the same study found that 75% of migrations cost more than planned, and 38% take longer.
While cloud migrations can be arduous and resource-intensive, having a strategy is critical to staying on budget and within your planned timeline so you can take advantage of everything the cloud offers.
What Cloud Migration Really Means
Cloud migration means more than its name implies. Rather than simply 'migrating to the cloud,' cloud migration can mean a number of things, including:
Rehosting: Moving your existing applications to another provider's hosting infrastructure
Refactoring: Re-implementing your application to take advantage of new platforms and technologies
Rearchitecting: Completely re-thinking how your applications' data and business logic work together
Considerations for a Successful Migration
The most important part of any migration initiative starts with a carefully planned data strategy.
Your data strategy should include a detailed listing of which data should be moved, as well as a clear indication of where the data will be moved and how it will interact with other systems. It is important to validate that the data is being moved to a service that supports the intended audience and utilization of that data.
For example, organizations can use a variety of Microsoft 365 services to store data and files, such as OneDrive for Business, SharePoint Online, or Teams, but each service supports a different scenario for collaboration.
Another important planning step is to build in time for the unexpected. When moving data between systems, it is common to run into unforeseen issues that must be remediated. Having time built into your migration schedule to handle these types of issues will prevent projects from running over their planned timeframe
Before you set a timeline for the project, be sure to assess the quality of your data. The time built in for migration will vary based on data cleanliness.
Lastly, using the right migration tool for the job is important. There are many migration tools available and just as many factors to weigh when making your decision, like cost and feature set. Choosing the right migration tool is the intersection of these factors as applied to the actual migration use case. For example, Microsoft offers several free migration tools to migrate data into Microsoft 365, while 3rd party vendors make applications that support more complex migration scenarios and have advanced migration features. The key is to make sure your team is familiar with the chosen tool or that they have a resource to lean on if they run into issues.
3 Areas of Focus for Impactful Cloud Initiatives
With these considerations in mind, we recommend focusing your migration strategy around your cloud infrastructure, applications, and security. This will enable your organization to embrace emerging cloud technology—like generative AI—as it becomes available.
Cloud Infrastructure
Your cloud infrastructure leverages remote servers hosted in data centers around the world for storage and networking. There are three main service models: Infrastructure as a Service (IaaS), Platform as a Service (PaaS), and Software as a Service (SaaS). Cloud infrastructure providers such as Amazon Web Services (AWS), Microsoft Azure, and Google Cloud Platform (GCP) offer a mixture of these service models.
Cloud-based infrastructure scales meet your customer's demands. It provides flexibility when demand increases or decreases. It can also reduce its impact on your hosting costs during downtimes. With cloud-based monitoring systems, your team can analyze all your infrastructure's signals in a single pane of glass. These systems can also leverage the provider's ability to proactively find issues or bottlenecks in your networks.
Cloud Applications
A cloud migration does not always mean moving your current applications to a cloud provider and continuing business as usual. Many times, a cloud migration provides the opportunity to re-think the end-user experience and rebuild your applications on a cloud platform as a new version of existing functionality. Taking the time to do this can result in a more secure, performant, and cost-effective implementation that also has a modern and familiar end-user experience.
Cloud Security
Just because you move your data to the cloud doesn't mean it is secure by default. Many clouds have various security features that are included in multiple licenses. Make sure you validate that your licensing provides the necessary security features to adequately secure your data across services, devices, applications, and identities.
Use features like conditional access policies and device or application management policies to control what applications users can access and from which devices. Additionally, regularly testing your configurations and applications will give you insight into any problems in your security posture.
It is important to know where sensitive data is located. Use data loss prevention policies to find and identify this type of data. Use information protection policies to limit what end users can do with this data.
Reimagine Your Future
With the rate of technology change in the marketplace, cloud migrations are becoming a must. Organizations still operating with on-premise systems stand to lose big, not only when it comes to the remote workforce but also in their ability to capitalize on the benefits of generative AI.
Not sure where to start? We can help. Learn more about how we helped Extra Space Storage build a modern cloud data solution.
Microsoft
Learn more about what Microsoft can do for your organization.
Cybersecurity
Cybersecurity
risk is business risk. We'll help you empower the right people and technology to protect your data.