Whatever your outsourced and managed services needs may be — Eide Bailly can help.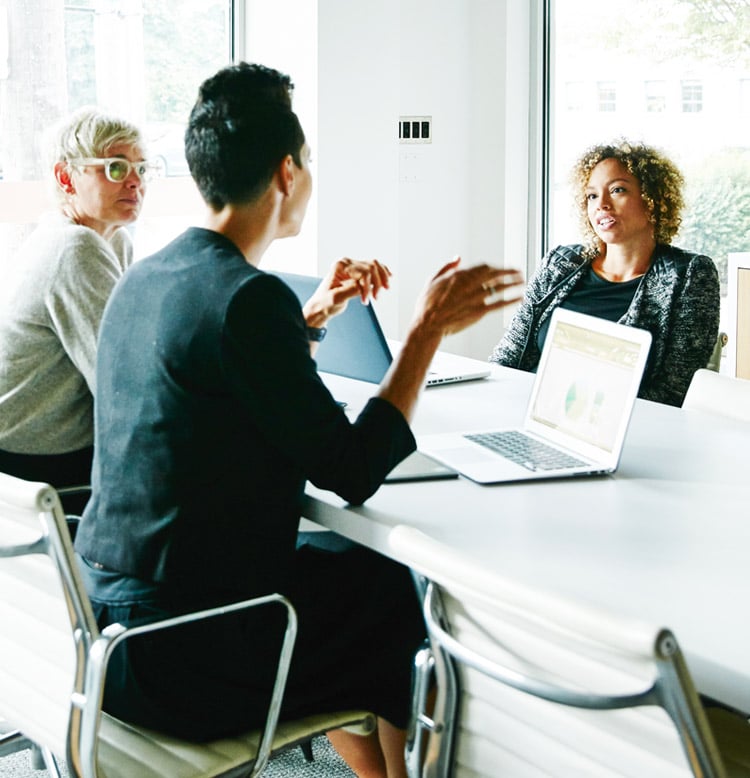 Experience the competitive advantage of outsourcing and focus on what truly matters — driving growth and achieving success.
Learn more
Accounting is so much more than an administrative requirement. It's the cornerstone of your organization's success. And when you approach it strategically, applying the most relevant, effective technology, your accounting function can deliver timely insight into your financial operations.
A strategic approach to your financial operations will ensure you have the information needed to make data-driven decisions, the latest technology to streamline your processes, and a team with specialized accounting knowledge so you can focus on what matters – your mission.
Prioritize Strategic Accounting Practices
Accounting practices must be reviewed often to ensure the organization's financial operations run efficiently. Every senior leader , executive director or business owner should understand the basics of accounting and have a solid strategy to ensure their accounting is up-to-date and accurate. If not, the consequences could be detrimental to the organization.
Strategic Accounting Practices Can Improve Financial Operations
Improving your financial operations comes easier when you take a strategic approach to your accounting. This will help you:
Gain oversight of your finances and operations, which can lead to valuable insight into your business and its future.
Use your financial data to evaluate risk and help avoid the time-consuming and costly consequences that can disrupt your financial operations.
Boost your organization's profitability and increase its value.
Identify and address cash flow issues.
Forecast returns on investment of capital expenditures.
Consequences of Inefficient Accounting Practices
Inefficient accounting practices can easily lead to inaccuracies which may:

Limit growth potential and ability to recover in the event of an economic downturn

Increase stress and employee turnover in the accounting department

Negatively impact or eliminate potential buy-sell transaction opportunities

Create significant cash flow problems that can disrupt business operations
If your organization is not prioritizing accounting and following best practices, it could veer off course and negatively impact critical business decisions. When an organization optimizes accounting, it optimizes its business. This means taking a strategic approach to getting ahead of disruptions, capitalizing on opportunities , and ultimately improving financial operations.
Create a Strategic Approach that Fits Your Organization
Good business decisions are born out of having the right strategy in place. Senior leaders , executive directors, and business owners can help move the strategic agenda forward when they stay involved and support the accounting department.
How to Take a Strategic Approach with Financial Operations
To create a strategic approach in your financial operations, you should:
Create Goals and Objectives
Leaders and the accounting team should clearly understand the organization's vision and mission before designing goals and objectives.
Gather and Analyze Data
Gather data from the organization's leadership team and other sources, then analyze and translate it into goals, objectives, and a tangible plan. The analysis should provide the details that will support a strategic plan.
Formulate a Strategy, Then Implement It
After the data is analyzed, design and implement a strategic plan. Monitor and evaluate the plan to ensure it aligns with the agreed-upon goals and objectives. Refine it when needed.
Monitor and Evaluate the Strategy
Developing a strategic approach is circular rather than linear. The data in the plan should align with the organization's overall strategy.
Raise the Level of What Your Organization Can Do
If your organization lacks the technology, industry knowledge, market expertise or strategic foresight to achieve your vision for the future – you're not alone. Rather than hiring internal employees or specialists, many organizations outsource to complement their team's skill sets and knowledge and raise the level of what their organization can do.
Outsourcing is simply hiring a trusted advisor such as a consultant, freelancer, or accounting firm. These professionals can add value to your organization in either an interim or full-time capacity.
Outsourcing allows your organization to:

Successfully scale quickly and strategically

Plan and prepare for the future – including the unexpected

Provide specialized expertise, resources, and technology

Support the organization's long-term goals
Outsourcing Specialized Accounting
Hiring an in-house accounting team is not always easy or affordable. And individuals with specialized accounting expertise can be difficult to find in an ever-changing job market. This is why some organizations choose to outsource their accounting and finance needs.
There are many benefits for your organization to consider:
Access to experienced resources with the specialized accounting skills needed to save time and money for a monthly service fee
Hands-on accounting knowledge without going through the hiring, onboarding, and training process
Access to a larger talent pool of resources that know your industry and understand the needs of your unique organization
Access to accounting tools and technology that help increase efficiency
A strategic, future-focused approach to financial operations that allows you to plan for long-term success
Flexibility and remote services
Increased time and ability to better serve your customers
Is Outsourcing Accounting Right for Your Organization?
Outsourcing is a common business practice for many organizations. Many will continue to outsource far into the future and see it as a smart and strategic business option. Don't let inefficient accounting processes or a lack of specialized financial knowledge in-house get in the way of your success.
Outsourcing with a trusted partner may be a good fit for your organization if:
You lack high-level accounting knowledge in-house
You're unsure how to leverage technology to streamline your financial operations
You want to improve financial operations but don't know where to start
Choosing a Strategic Partner That Understands Your Organization
Trusted advisors are highly knowledgeable in their field and can help guide your organization to make the right business decisions and improve finances and operations. A strategic partner can assist in developing an accounting function and proactive processes to set your organization up for long-term success. With the latest technology, accounting data can be leveraged to make business decisions faster, increasing profits.
Outsourcing Accounting with Eide Bailly
We understand your financial needs may be ever-changing that's why our outsourcing professionals come at all levels: chief financial officer, controller, bookkeeper, accountant, payroll, and other special projects services.
"Eide Bailly is a firm believer in the value of strategic outsourcing. The evolution of business calls for a variety of skills, knowledge, and experience. Far too often, that fast-changing environment prevents you from having the right talent at the right time. Outsourcing can align you with a partner that helps you anticipate those needs, handle those challenges, and prepare you for what's next."
- Jenni Huotari, CPA
Our outsourcing professionals can help you improve financial operations and make strategic, data-driven decisions by leveraging technology and developing a digital strategy to assist in solving your top challenges.
Let us take the burden of strategic accounting and finance functions so you can focus on growing your organization.