Technology adoption has exploded over the past several years, and unfortunately, nonprofits seem to be lagging. According to an Accenture digital adoption report, only 39% of nonprofits have begun to use data analytics.
Of these organizations that have invested in the technology, 83% have seen significant gains and returns on that investment.
Getting intentional with data isn't a simple process. Organizations grapple with barriers, particularly if they don't have a centralized system. Often, working with an experienced digital consultant who understands nonprofits can jumpstart your success, directing you toward the right systems, process changes and technologies so you quickly overcome any obstacles and make those significant gains more immediately.
Data Analytics Strategy Basics for Nonprofits
What is Data Analytics?
Data analytics is the science of analyzing raw data to uncover insights that can help organizations make more informed decisions. Every company is a data company, even nonprofits, but not every company is data-driven. Most businesses inherently accumulate and maintain a sizeable amount of data. Yet, many sit on high-potential, unorganized data without a mature process or means for gaining insight from it.
Want to dive deeper into data analytics?
Why Should Nonprofits Care about Data Analytics?
While organizations do require multiple systems to function, in many cases, those systems don't communicate with one another, creating data silos. In not communicating with one another, these islands of data won't produce a single version of the truth about your constituents, your grant money or your organization's spending. Admittedly, getting that all together into one spot without the right tools can be difficult, which is why some nonprofits have invested in robust digital solutions like Salesforce or NetSuite to unify their data.
Data silos make for inefficient data processes because data must be pulled from multiple systems to truly understand a key business factor. Often this manual combination results in less data accuracy and trust across the organization, including an increase in the potential for error. This makes it more challenging for board members to gather, organize and analyze the data – which keeps them from easily accessing information they need to make clear decisions.
In addition, oftentimes, nonprofits rely on "rearview mirror" decisions rather than forward-looking ones. Everybody has to run on financial statements. However, in reviewing only that information, you won't gain a full picture of your organization. Looking at financial statements alone also means you won't be fully aware of the impact of present-day decisions until later. Financial statements alone cannot accurately convey the truth of your operational health and performance.
Data analytics, particularly operational analytics, help companies respond and adjust in real time to large and small challenges. Relying on financial statements means your organization has to wait one to two months to know the impact of decisions made today.
In comparison, organizations who can quickly receive accurate, daily or hourly updates of their nonprofit's activity are the nimble ones who can rapidly respond to challenges.
To truly harness data, nonprofits need to unify their disparate data into one version of the truth with an organized database and centralized solutions to power mature data analytics. The benefits of being intentional with and acting on your data are substantial.
Become a Data-Driven Nonprofit
How Data Analytics Help Nonprofits Keep Value Ahead of Costs
One of the most important things for an organization is keeping value ahead of costs. Tools and technology play a big part in this. However, adoption of the latest technology can seem daunting, especially for nonprofits, due to a misconception of cost and return on investment.
The average number of systems it takes to run an organization today is well beyond 10. In many cases, those systems don't communicate with one another, which creates data silos. This makes for inefficient data processes because data must be pulled from multiple systems to truly understand a key business factor.
This manual combination results in less data accuracy and can erode trust across your organization. When it is more challenging for leaders to gather, organize and analyze data – it keeps them from easily accessing information they need to make clear decisions. Inefficiency and less effective leadership is costly.
Luckily, plenty of cloud-based applications operate on a monthly, pay-as-you-go schedule. This flexibility enables nonprofits to scale their use depending on their needs. For example, with the cloud, organizations can start out small, using only specific aspects of a software. Once your organization's users are familiar with the benefits and uses of the solution – and the technology is really proving its value – then you can consider how to scale up to gain more features and functionality, as well as improved efficiency. Our team is skilled in guiding clients through this process with our decades of implementation and consultation experience in the nonprofit industry.
You can start with a cost-effective solution that meets your needs and, as you get more value out of the solution you're building, you can expand your use of it.
3 Reasons Organizations Pursue Greater Analytics Maturity.
1. Support rapid growth.
2. Move from spreadsheets to advanced analytics.
3. Empower decision making backed by real-time data.
Key Tools and Systems for Nonprofit Data Analytics
The cloud is a significant part of digital transformation. It's an ecosystem of solutions that can easily integrate and expand based on your organizational needs, eliminating one-off tools that don't "speak" to each other. This is why digital platforms like NetSuite and Salesforce are becoming more popular in the not-for-profit sector. They enable organizations to collaborate in one space and unify processes. Not to mention, analytics from leading data visualization solutions like Tableau can be easily embedded into the solutions so your team can have dashboards and digestible information right at their fingertips in the tool they use every day.
Another key element of your data analytics journey is data storage and warehousing. Before you introduce a new tool to unify data, you must identify the applications and databases that will feed data into your analytics tool and define how you will classify data for security and restriction purposes. Often, companies use both data lakes and data warehouses for differing access purposes. Centralizing your data into data lakes and warehouses creates a single version of truth.
A data lake is commonly used for auditing, data science and supporting APIs and business applications. It's primarily for a highly technical skill set.
A data warehouse is commonly used for no-code analysis, custom reports, dashboard and scorecards. It is best for priorities like data accuracy, accessibility, actionality and organization. Its users have a less technical skillset.
Launch a Data Analytics Strategy at Your Nonprofit.
Studies show that roughly 60% of nonprofits will use data in their decision-making if it's available. The key is to make it as easily accessible as possible and ensure it's accurate, up-to-date and provides a complete picture of your organization's data sources. How you do that depends on the systems your organization uses, how they work together and the analytics you put in place to enable your people.
Today, analytics tools are engineered to be more accessible than ever. Each department or team handling analytics can stand on their own legs to create statements and delve into records. Recognizing there is untapped potential in your data is step one; next comes building a strategy around your data and how you can use it to reach your nonprofit's organizational goals.
Data analytics doesn't need to be intimidating.
We're Here to Help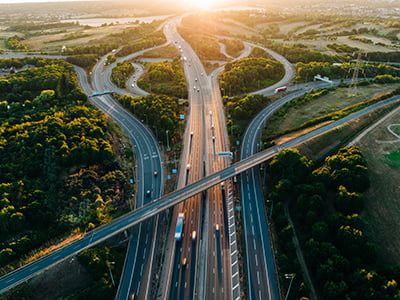 From business growth to compliance and digital optimization, Eide Bailly is here to help you thrive and embrace opportunity.
Speak to our specialists