Let us help you create, manage, and secure your modern workplace.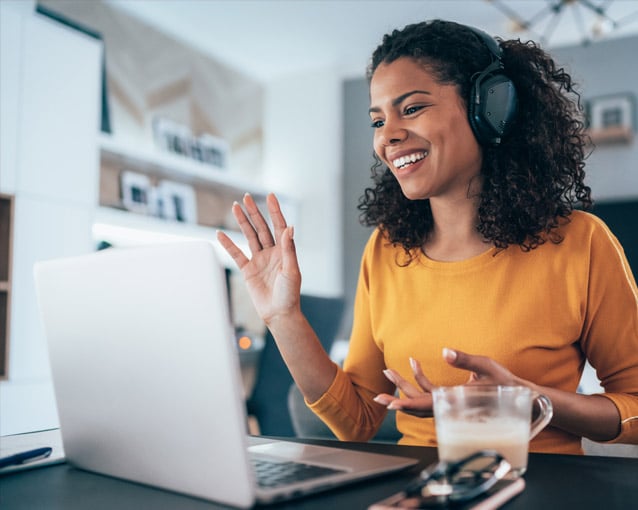 Enable collaboration and productivity built on the foundation of a scalable cloud or hybrid environment.
Talk to our specialists
Key Takeaways
Cloud technology is a core component in powering digital business operations.
Accessible information allows organizations to capitalize on work-from-anywhere talent.
The cloud offers regular updates that reduce risk and cost models that lower IT expenses.
The force driving many organizations to execute a digital business model is competition. Getting ahead (and staying ahead) depends on an organization's ability to scale and innovate with speed and agility. Cloud technology is a core component in powering digital business operations.
According to Flexera's 2023 State of the Cloud Report, the top cloud initiatives for organizations of all sizes are:
Migrating more workloads to the cloud
Optimizing existing use of the cloud
Moving from on-premises to SaaS versions of software applications
Progressing on a cloud-first strategy
Prioritizing these initiatives will be the differentiator between organizations that get ahead and stay ahead and those that fall behind.
4 Benefits of Cloud Technology Accessibility
Accessibility
The ability to access information from anywhere across all devices is a non-negotiable for organizations operating in the current business landscape—especially those looking to capitalize on work-from-anywhere talent.
Cloud technology is inherently built with productivity in mind, and not just within communication and collaboration tools like Microsoft 365. Cloud-based business management systems and customer relationship management tools boast user-friendly platforms that allow teams across all functions to work faster and smarter from anywhere on any device.
The benefits of accessibility also extend to traditional systems that rely on on-premises servers. By migrating to the cloud, businesses can enjoy the reliability and convenience of modern solutions without the complexity of a full migration. This is particularly advantageous ready for a complete shift or leverage industry-specific tools tied to on-premises servers.
In today's business environment, accessibility isn't a perk it's a necessity. Research from McKinsey found that flexible working is a top motivator for the talent pool across various occupations, including business and financial operations.
Regular Updates
Incorporating cloud-native applications into your business model reduces the complexity of software upgrades for your entire organization. The cloud makes the process seamless for your IT team and your business users, offering a hands-off streamlined approach that reduces disruption and downtime.
This means that as technology continues to change, your business software is able to change too. Most cloud business systems push out multiple releases every year—and some tech giants even push weekly updates—ensuring you have the latest, most secure version of your system.
On-premise systems, however, require substantial hardware investments, larger IT budgets, and scheduled on-site upgrades. Because these systems are physically installed on-site, they require on-site servicing when maintenance is needed. Every update, every administrative change, and any integration require a visit from the solution provider specialist.
Reduced Risk
The perception of risk associated with cloud computing remains high. However, the biggest security risk on-premise systems. It takes a team of IT professionals constantly maintaining, monitoring, and manually updating and configuring the security framework to keep your systems and data secure. Malicious actors are continuously discovering new ways to infiltrate systems. If you're running dated software, there is no way to thwart these constantly evolving attacks, leaving your data vulnerable.
In contrast, the cloud's ability to push regular updates affords real-time security and network patches for each new vulnerability discovered. Additionally, when you're operating in the cloud, you can take advantage of threat management tools that continuously monitor malicious and unauthorized activity.
Lower IT Costs
The perceived cost of operating in the cloud is often a deterrent for organizations that typically budget and plan for technology purchases in a regular cycle. But transitioning to a recurring subscription software model means the vendor owns IT maintenance and includes patches and updates.
Due to the time and hardware involved, maintenance accounts for an estimated 18% of the total cost of on-premise systems. A business with a $300,000 licensing fee can expect to spend $53,550 on annual maintenance.
Additionally, there is often cost savings when it comes to moving an on-premises server to the cloud. Whether it's a large organization moving 1,500 servers or a small organization moving one server, a consumption-based cloud service cost model provides long-term cost savings. Not only do you no longer have to purchase and maintain servers, but cloud service providers offer consumption incentives to make access affordable to organizations of all sizes.
The Path to a Secure Cloud
Traveling the path to a secure cloud environment is imperative for organizations that want to get ahead and stay ahead. Whether you're moving to the cloud from on-premises systems or trying to optimize your existing cloud strategy, it's essential to have a plan that focuses on security.
Microsoft
Learn more about what Microsoft can do for your organization.
Cybersecurity
Cybersecurity
risk is business risk. We'll help you empower the right people and technology to protect your data.