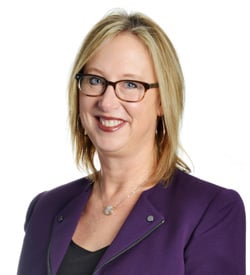 LaRae E. Langerud
Director of Administration
At Eide Bailly I've had the privilege to serve clients inside and outside of the Firm – it's been a truly rewarding experience!
As the Director of Administration, LaRae works closely with all of Eide Bailly's operating offices and affiliate companies throughout the country. She joined the firm in 1988 and is highly experienced in a broad range of administrative and human resources services, including legal compliance, risk management, organizational development, executive search, mergers and acquisition integration, conference planning and process improvement. LaRae is also the go-to contact and director for the Eide Bailly Alliance, a network of noncompeting member firms that utilize Eide Bailly's depth and breadth of resources to complement their own.
If you get the chance to work with LaRae, you can expect a true Eide Bailly customer experience, where your needs are at the heart of all action. She will work hard to match your needs with solutions that help you reach your goals ... all with a personal touch.
When she's not leading the administrative efforts at Eide Bailly, LaRae divides her free time between a variety of sporting activities and relaxing at the lake (a favorite Fargoan past time). She's also an avid reader and enjoys trying new recipes in the kitchen.