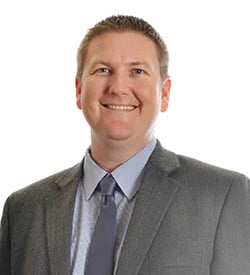 David A. Frank
CPA
Partner/Aberdeen Market Leader
Here at Eide Bailly, I love that we have been able to maintain a small office feel that is welcoming to all clients, yet have the resources and horsepower of a large firm available to exceed our clients' needs and expectations.
David provides tax consulting and tax compliance services to a wide variety of Eide Bailly clients. These clients include lodging and small business owners, agricultural producers, agricultural cooperatives and a number of other industries. He is a member of Eide Bailly's Aberdeen Wealth Transition Committee and has served more than 400 clients since joining the firm in 2007.
When you work with David, you get a tax professional with curiosity who continuously looks for ideas that will help you and your business ... ideas ranging from tax advice to operational advice, all with the goal to provide added value that helps you achieve your business objectives.
As a husband and father of three, David's main focus outside of the office is his family—his wife Natalie, children Abby, Hailey and Mason and dog Kya are his life. He also enjoys anything that involves being outside and getting a bit dirty, including hunting and fishing as well as gardening and yard work.