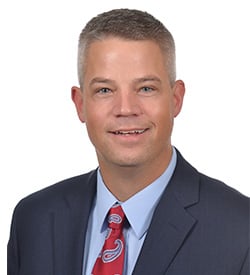 Ben L. Ellingson
CPA
Partner/National Assurance Practice Leader
Eide Bailly focuses on building and maintaining relationships, whether that be with clients, within the firm or in the community. Interacting with people is a highlight for me, and the firm provides great opportunities for me to build relationships in all aspects of my career.
Ben has provided public accounting services to Eide Bailly clients since 1999. He works with a variety of industries, focusing primarily on closely held businesses. Ben serves as the Partner-in-Charge of the Mankato office and has extensive experience with clients in the construction, manufacturing and wholesale distribution industries.
When you work with Ben, you can expect responsive, knowledgeable and, above all, friendly service. He is passionate about his work and passionate about inspiring others to see the value in the hard work that goes into the job, as well as the rewards that result.
When he's away from the office, Ben enjoys spending time with his family and any activity that brings him outdoors. He makes the most of the Minnesota wilderness by hunting, fishing and golfing (even his ball seems to like the woods) and loves to extend an invite to anyone willing to take on the adventure.